Description
Are you ready to take your understanding of the world to the next level?
Do you want to learn, evolve and transform into a more informed and well-rounded individual?
Introducing Future Leaders Course, the ultimate program that will give you a deeper understanding of the world and the issues happening around it.
Our curriculum is designed to take you on a journey of learning, evolving and transforming. From mastering the English language and developing your public speaking and writing skills, to gaining a comprehensive understanding of our history, culture & heritage, geographic knowledge, Indian polity, civics & governance, understanding how our economy works, science , technology and all important general knowledge aspects. We cover it all.
But we don't stop there. In Future Leaders Course, we also include new age skills such as coding, basic animations, advanced MS Office, video and audio editing, web design, and digital marketing.
Future Leaders course is designed to give you a comprehensive understanding of the world and the issues happening around it, and the skills you need to navigate it, all in one place. By the end of our course, you will have a deeper understanding of the world and be able to make informed decisions as a leader.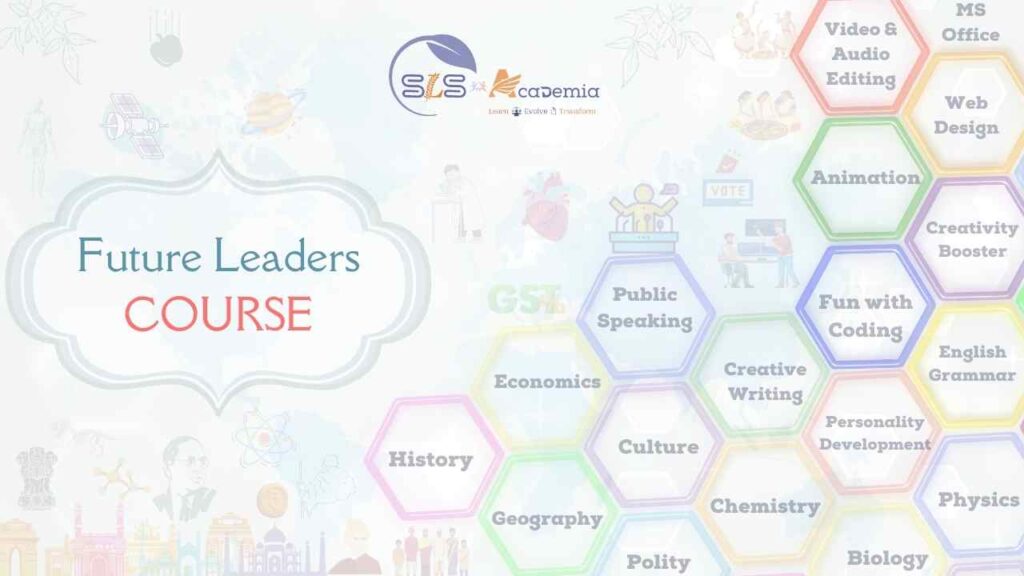 Future Leaders Course
The objective of this course is to provide in-depth knowledge about the subjects mentioned, which will help you understand about our Roots thereby helping you develop a Curious and a Creative mindset. Along with gaining all these knowledge , you will also be trained to acquire the best of skill set which will help you to create products that will transform our Future. All the topics in the above mentioned course will be taught with an aim to help you understand and apply that knowledge in our day to day lives.