Description
Welcome to the Fearless English Course, an innovative program designed to help you overcome your fear of public speaking and enhance your English language skills.
In this live, 4-member batch course, you will learn the ins and outs of public speaking, from how to structure your speech to how to deliver it with confidence and flair. You'll also expand your English vocabulary, fine-tune your writing skills, and develop a strong and dynamic personality that will attract others to you.
But that's not all. At SLS Academia, we believe that effective communication is not just about language skills, it's also about thought structure. That's why we'll also teach you the art of logical thinking, creative thinking, critical thinking, and design thinking, helping you to develop your ideas and express them with clarity and impact.
By the end of this course, you'll have the skills and confidence to express yourself clearly and effectively in English, making you stand out in your personal and professional life. Here is the complete course curriculum that will be taught to you in Fearless English Course.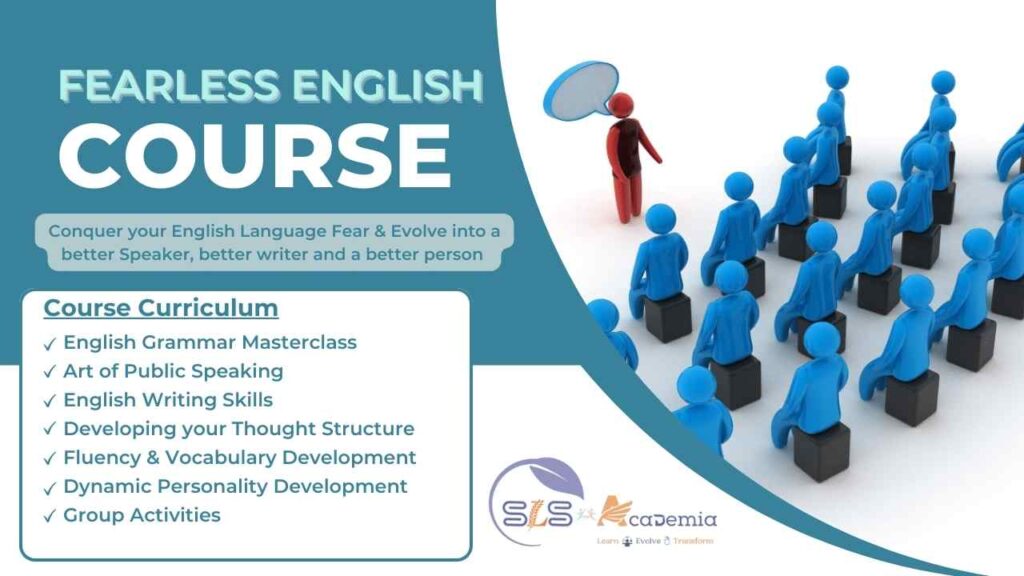 Fearless English Course
Everyone in their lives ,at some point or other, encounter a situation where they realize the importance of  public speaking skills . It could be at work, at school, or in your personal life. Whether you are looking for tips on conquering stage fright, looking to improve your public speaking skills, looking for tips to improve your confidence, or trying to motivate others on the importance of public speaking; I will help you to master all of these as we move forward in this course.
Public speaking is a soft skill that requires excellent communication skills, Self-Confidence, enthusiasm, and the ability to engage with an audience. Creative Writing on the other hand requires writing skills and vocabulary. In this Live Online Course, I will teach you the Nitty-Gritties of Public Speaking , Creative Writing as well as Personality Development. To master all of these I will also teach English Grammar , as it is the foundation to all of these. In this Course I have also included lots of Group Activities where you will participate in lots of competitions ,events and seminars along with other group members.